Fantone-Fantone (Lancia Fulvia) won XXV Elba Graffiti
22-09-2012 20:50
- Archive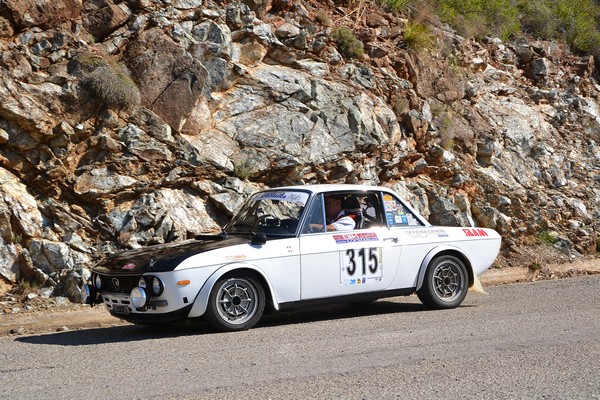 It also ended the thrilling experience of the Regularity rally, also included it in the official FIA Calendar.
Capoliveri-Isola d´Elba (Livorno), September 22, 2012
Michele and Camilla Fantone, on a Lancia Fulvia Coupee of 1974 were the winners of the XXV Elba Graffiti, also run between yesterday and today comes after the Rallye Elba Storico.
Born a year before it, the "Graffiti" celebrated in 2012 its prestigious target this time with the inclusion in the FIA ​​Trophy for Historic Regularity Rallies, which was the seventh round of the eleven scheduled. The discipline is an evolution of classical regularity, certainly with more agonism. The rankings are determined based on the performance of the competitors on the regularity test sections where wins who is more accurate in respect of the hourly averages, not always equal, established from time to time by the organizers, which will arrange even surprise checks along the route.
Only six penalties made ​​by Fantone for the first overall, with the second position went then in the hands of Porsche 911 Marani-Colfi, with 17 penalties. The third position was dominated by Amato-Scarcella (Lancia Fulvia Sport), with a total of 18 penalties.

www.rallyelbastorico.it
Aci Livorno Sport ASD
Via Verdi 32 57126 Livorno
tel. 0039 (0) 586 898435
fax 0039 (0)586 205937
acilivornosport@acilivorno.it
FACEBOOK
www.facebook.com/RallyeElba
TWITTER
https://twitter.com/RallyeElba
UFFICIO STAMPA
MGTCOMUNICAZIONE - studio Alessandro Bugelli
bugelli@email.it
ACCREDITI ON LINE:
www.mgtcomunicazione.com/accredito.asp
Source:
Press Office